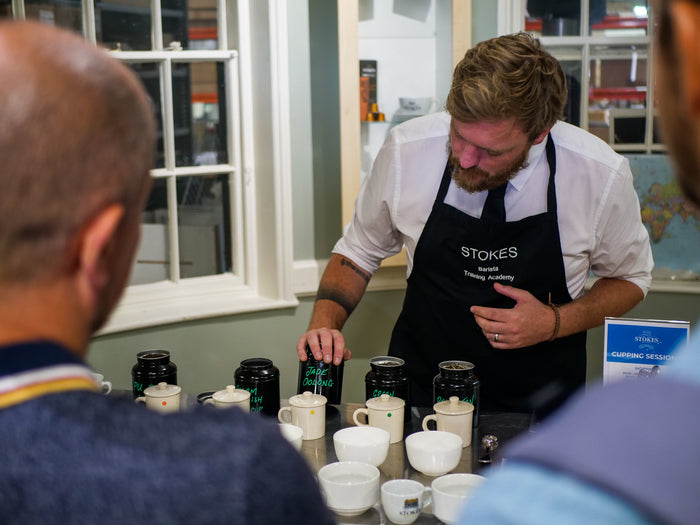 Posted on: JUL 10, 2023
Posted by: STOKES COFFEE
Companies the length and breadth of the UK are becoming increasingly brow-beaten by a seemingly relentless deluge of gloomy economic news.
Leadership teams grappling with rising costs, will be drawing up efficiency plans in a bid to identify how they can achieve more with less.
When it comes to increasing effectiveness there are a selection of obvious business levers to pull, but there are also some simple yet deceptively powerful principles that can help make big impacts to bottom lines. Improving customer retention can contribute to impressive increases in revenues of between 25% and 95%. Keeping staff is another way for businesses to make gains, as reducing staff turnover means less hiring costs, increased productivity, and delivers a better customer experience. Achieving retention takes creativity particularly given that quiet-quitting, rapidly diminishing attention spans and time poor audiences are growingly prevalent considerations.
As well as the more obvious choices of reward and recognition, delivering great customer service, loyalty, referral incentives and so on. A good old-fashioned face to face can be incredibly powerful when it comes to both winning and keeping clients or staff.
The pandemic was a catalyst for change and served as a reminder that there really isn't any substitute for human contact no matter how high-tech a virtual setting may be.
Karis Hildred is an events specialist who manages an award-winning venue and events operation, she shared some insights saying, "We were honoured most recently with a bronze award from the M&IT which has been a superb stamp of approval for our venue."
"The last few years have been eventful to say the least with most people adapting roles and rapidly upskilling to take events online through the pandemic. Now, in a post Covid world, like many, we are bracing ourselves. We're holding on to the hope that our industry won't be affected again on such a massive scale as we enter a potential economic crisis. But we've found that organisations are still focusing on planning events and their priority is ensuring that every one of their guests gets maximum value from attending. Clients are looking for the wow factor that simply cannot be delivered online."
"We've seen a huge increase in full day event bookings which incorporate experiences. Our venue and events centre is housed in a beautiful 200 year old building owned by a fourth generation family of coffee roasters, Stokes Tea & Coffee. This is fantastic for us as we can include tours of the onsite coffee roastery followed by tastings or 'have a go at latte art' classes at the Barista Academy located in the same building. These dynamic elements allow the event organisers to interact with their guests in exciting and informal ways. Being able to provide such a wide range of unique options as well as a full range of events and venue services is valuable to our clients."
"Shared experiences allows them to break down barriers and interact with their clients.  along with having the right facilities to do the important stuff and deliver those key messages. Attendees want to walk away with something extra that cannot be delivered through a screen. Clients want to see, smell and taste an event and organisers stepping into this new field want to deliver these experiences with exceptional customer service."
Debbie Connelly, Head of Awards and Conferences Operations, Northstar Meetings Group, organisers of M&IT Awards, said: "From galvanising workforces to spreading knowledge and inspiring innovation, the meetings and events industry has played a crucial role in rebuilding economies in the aftermath of the pandemic. Our latest research shows that, while business remains challenging, optimism about the continued return of in-person events continues to grow. That's because, ultimately, you can't replicate the in-person experience online - the special buzz you get when people are in the same room. At a time when hybrid working has become the norm, events like the M&IT Awards play an even more crucial role in bringing people together and celebrating success."
Budgets are tightening and the competitive environment is hotting up, so finding ways to cut through the noise and stand out from the crowd is crucial. The newfound popularity of in-person conferences is not just a result of people missing these interactions but rather that businesses are seeing real benefits. Businesses are using events to elevate their company brand, convert sales opportunities more rapidly, build contact lists and data, strengthen existing relationships to realise greater potential and value, build a collaborative approach to a collective problem or challenge, generate new leads and so much more.
Putting on an event or arranging a conference doesn't have to be costly, complicated or cumbersome. Using professional organisers and setting clear objectives is a focused way of achieving real results.
The next 12 to 18 months look set to be far from plain sailing for all businesses everywhere. But resisting the urge to batten down the hatches and using ingenuity to reach the people that count in personal ways can make all the difference.
Karis' Top Tips For Event Success:
Have clear objectives - share these with your event organiser to achieve concrete outcomes.

Do something different – Choosing the best venue with great right facilities is a good start but consider what else is on offer to make your event unique and memorable.

Make it worth it – budgets need a pay back and so do your attendees – consider what's the value for both.

Plan ahead – it may seem obvious but allowing enough lead-time will take your event from good to great.

Share the load – choose an organiser and venue with the solid facilities, expertise and the flexibility to make your event unique to elevate your brand and be remembered long after the car park is cleared.
Find out more at: Wedding Venue | The Lawn | England (lawnlincoln.com)