Christmas at Stokes
The perfect gifts for coffee or tea lovers! Take a look at our full collection with the button below.
EXPLORE OUR GIFT SELECTION
Stokes Tea & Coffee
Stokes Coffee Lincoln UK is an award winning family business with over 120 year's experience in sourcing, roasting, blending & supplying our own coffee.
We offer the finest tea and best coffee in Lincoln as well as supplying to our direct and to wholesale customers.
Discover the best tasting coffees, teas and "Coffee Lover" essentials throughout our website, alongside our other services such as Gifts, Experiences and Barista Training.
DISCOVER
NEW CLICK & COLLECT SERVICE & FREE DELIVERY ON ORDERS £35 & OVER
Featured products, handpicked by our team

BARISTA TRAINING ACADEMY
Whether you're looking for professional City & Guilds certification or just want a fun experience learning how to craft the perfect coffee - we have a package perfectly suited to you.
DISCOVER
---
POSTED IN: JOURNAL ON Nov 20, 2023
Beginners Guide: How To Roast Coffee Beans at Home
What is coffee bean roasting? Simply put, it's the process of heating green coffee beans until they turn brown and develop their characteristic flavour and aroma. But why roast your own beans when you can easily buy them already roasted?...
READ MORE
---
POSTED IN: JOURNAL ON Oct 27, 2023
Where Does Coffee Come From?
Coffee is a truly delicious drink that keeps us focused, but it takes a long time to get from bean to cup. Coffee plants take years to flower and can only grow in a certain part of the world. The...
READ MORE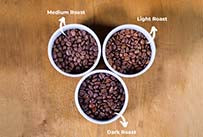 FOLLOW US

ENVIRONMENTAL
We use the world's most eco-friendly roasting system and over a century of know-how to roast our coffee to perfection.
LEARN MORE