Stokes Tea & Coffee
Stokes Coffee Lincoln UK is an award winning family business with over 120 year's experience in sourcing, roasting, blending & supplying our own coffee.
We offer the finest tea and best coffee in Lincoln as well as supplying to our direct and to wholesale customers.
Discover the best tasting coffees, teas and "Coffee Lover" essentials throughout our website, alongside our other services such as Gifts, Experiences and Barista Training.
DISCOVER
NEW CLICK & COLLECT SERVICE & FREE DELIVERY ON ORDERS £35 & OVER
Featured products, handpicked by our team

BARISTA TRAINING ACADEMY
Whether you're looking for professional City & Guilds certification or just want a fun experience learning how to craft the perfect coffee - we have a package perfectly suited to you.
DISCOVER
---
POSTED IN: JOURNAL ON Sep 11, 2023
How Do Coffee Beans Grow?
Coffee has become a part of daily life everywhere; around the world you can grab a latte in Los Angeles or a flat white in Fiji and coffee is second only to water in its popularity. While water can be...
READ MORE
---
POSTED IN: JOURNAL ON Apr 27, 2020
The History Of Coffee
The history of coffee is a long one. Coffee is older than almost every country in the world, it has seen empires rise and dynasties fall, it's pretty darn old, and there's a reason for that.
READ MORE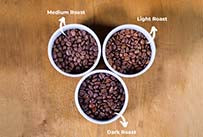 FOLLOW US

ENVIRONMENTAL
We use the world's most eco-friendly roasting system and over a century of know-how to roast our coffee to perfection.
LEARN MORE