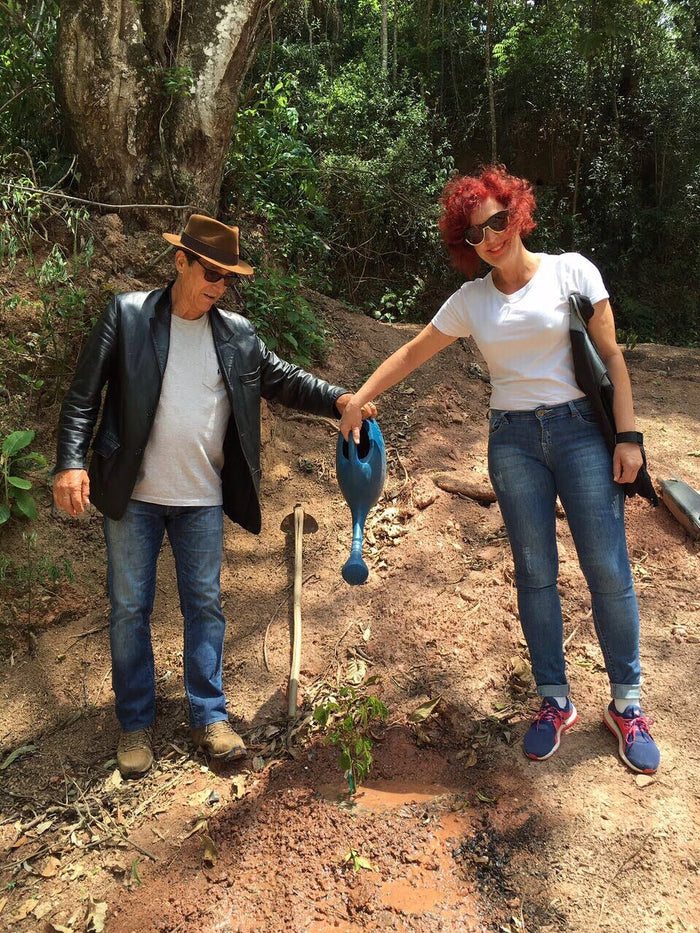 Posted on: NOV 28, 2022
Posted by: STOKES COFFEE
Immerse yourself in the origins of our Speciality coffee and drink-in the sublime, sun-drenched notes with every sip of coffee from the most sustainable farm in Brazil!

Not all coffee is created equal. The Stokes Speciality range assures excellence and a superior cup of coffee. It takes a lot to receive the Stokes stamp of approval. The coffees that do are the culmination of the passion, pride and dedication of everyone in the supply chain, from the farmers to Stokes' Master Roasters who select only the finest green coffee and use their wealth of expertise to bring out the best from every bean.
Explore Brazil with our Bom Jesus Speciality Coffee
Meet the Farmers 
Deep in the heart of the Alta Mogiana Region, a lush landscape is the beautiful home of a diverse range of fauna and flora. The area is blessed with a wonderfully comfortable and constant climate, perfect for growing some of the finest coffee in Brazil.
Bom Jesus Coffee is grown by Gabriel and Flavia Lancha Oliveira who come from a long line of coffee farmers. Both are the grandchildren of coffee producers and now they've passed on this passion to their children too.
The couple and their sons, Lucas and Gabriel junior, dedicate every waking moment to nurturing their coffee plantations in Cristais Paulistas. The area is around 1,200 metres above sea level with daily temperatures of 20 to 25 degrees centigrade, ideal growing conditions for healthy, strong coffee trees. Coffee has a long history in Brazil, but the average age of coffee trees at Bom Jesus Farm is around 8 years old, and, up to 3.5 kg of green coffee is produced by just one coffee tree.
The Most Sustainable Farm in Brazil!
The fruits of this family's labour is benefitting communities far and wide, not to mention the most discerning coffee drinkers. Their work to develop sustainability and the local environment has been admirable. The family founded the Alta Mogiana Specialty Coffee Association which promotes ethical coffee growing in the region. Workers are treated like extended family members and receive lots of benefits and support including monthly essentials hampers, bonus payments, fixed wages, specialised training, and, their children get an education at the local school. 
Bom Jesus coffee beans are not the only treasure to come from this area. The vegetation and wildlife are highly prized by Rainforest Alliance researchers as in 2019 the farm was appointed as the most sustainable in Brazil!
All the products used in the growing process are not only allowed but recommended, including compost produced and used on the farm. Fazenda Bom Jesus was the first farm in the Alta Mogiana Region to be certified by UTZ and has achieved membership of the Brazilian Specialty Coffee Association and Rainforest Alliance (RFA) Certification.
The Taste
Bom Jesus has a bright and remarkable acidity with hints of chocolate and walnuts. It leaves a very light and pleasant aftertaste. Notes of brown sugar make it a naturally sweet cup with a hint of maple syrup and its stunning aroma is soft and sophisticated.
The Process
The sweetness of Bom Jesus comes from the coffee varietal Yellow Catuai, and the natural process used. The sugar in the coffee cherry gets passed on to each bean as they are all dried together before husks are removed just after the coffee reaches a humidity of 11.5%.
Coffee in Brazil is often sun dried, and, or, mechanically dried. It can take up to 25 days when naturally sun dried, but mechanical drying often takes just 2 to 3 days. Then the dried coffee cherries go into wooden silos to rest for up to 75 days to ensure the batch is uniform in cupping and taste. A cupping lab at the Bom Jesus farm grades the coffee at every stage from harvesting to drying and processing.
Royal Connections Create Partnership
Stokes keeps a close eye on the journey of every bean from farm to cup. We work with Calum Maciel Brough to source our Bom Jesus beans directly from the farm and make sure it arrives safely and in peak condition at our roastery.
Calum (Cal) has grown up in and around coffee farming, processing, and grading and works extremely closely with each farmer. Cal's family are actually neighbours to the farmers of Bom Jesus and have a history in coffee which dates back to the 1800s. In March 1931, Edward, Prince of Wales visiting coffee plantations on the Bugre Water farm. At his side Nestor Barbosa Ferraz son of Major Barbosa Ferraz. According to Bráulio Barbosa Ferraz this brother mastered English well and would have been in England a few times 
But it's more than a long heritage in coffee that brought Cal and the Stokes family together. Both have enjoyed royal interest from princes and kings. The former Prince of Wales Edward VIII was a visitor to Cal's family coffee plantations in Brazil and his brother, George VI, who later became king, was the first royal customer of Stokes Tea & Coffee back in 1918.
Cal says: "Our family businesses have so much in common. We share a lot from royal connections to family heritages and of course a deep passion for producing the finest coffee for every customer!"
Bom Jesus At A Glance:
FARM – Fazenda Bom Jesus
OWNERS – Gabriel e Flavia Lancha de Oliveira
ALTITUDE – 1270 meters above sea level
LOCATION – Cristais Paulistas, Alta Mogiana. Sao Paulo
PROCESS – Natural process, sun dried, 30 days of resting period.
CERTIFICATIONS - Rainforest Alliance certified and Alta Mogiana Specialty Coffee Association (AMSC)
VARIETY – Catucai
SCA SCORE – 85