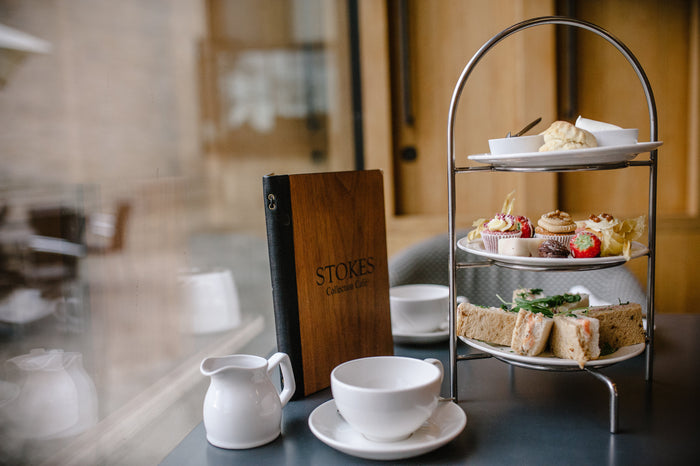 Posted on: JAN 2, 2018
Posted by: STOKES-COFFEE
We all love to indulge in a spot of afternoon tea, but do you know the history behind one of the Nation's favourite luxuries?
During the early nineteenth century, tea consumption increased massively, and it was around that time that Anna Maria Russell, the 7th Duchess of Bedford is said to of complained of "having that sinking feeling" during the late afternoon. In those times, it was usual for people to only have two main meals a day; breakfast and dinner at around 8 pm. The solution for the Duchess was to have a pot of tea and a light snack during the afternoon.
Following on from this, the Duchess then started sending cards to her friends asking them to join her for "tea and a walk in the fields." This led to other social hostesses jumping on the idea and the practice then became respectable enough to move into the drawing-room. Before long, fashionable society was sipping tea and nibbling sandwiches in the middle of the afternoon.
Traditionally, the upper classes would serve a 'low' or 'afternoon' tea around four o'clock, just before the fashionable promenade in Hyde Park. The lower classes would have a more substantial 'high' tea later in the day, at five or six o'clock, in place of a late dinner. The names derive from the height of the tables on which the meals are served, high tea being served at the dinner table.
Afternoon Tea at Stokes
Stokes Tea & Coffee has been famous for supplying customers with delicious, elegant afternoon teas for over a century now. 
Whether you choose our historic setting at the High Bridge cafe or the more modern and vibrant buzz at the Lawn cafe, you will not be disappointed when having your afternoon tea. You can taste our freshly made sandwiches, scones with clotted cream and jam, sweet pastries and cakes - all washed down with our famous selection of Stokes tea, of course! 
You can order takeaway Afternoon Tea from our Lawn Café by calling 01522 581921
Try our brand new Afternoon Tea Blend to enjoy the finest brew at home
If you know someone who would love an afternoon tea, then why not take a look at our Stokes vouchers?